Dr. Crandall's best selling book titled The Simple Heart Cure was a #1 best selling cardiology book on Amazon. The book offers it's readers the opportunity to prevent and even reverse heart disease.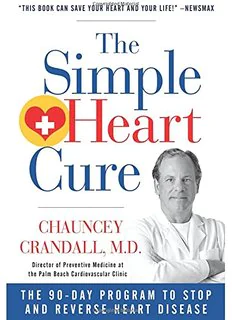 Simple Heart Cure By Dr. Chauncey Crandall
Heart disease kills more people than any other medical condition, and no one is more aware of this than renowned cardiologist Dr. Chauncey Crandall. In addition to having performed over 40,000 heart procedures during his career, Dr. Crandall has experienced this deadly disease on the most personal level as a patient.
At the age of 48, and with no major risk factors, he found himself in the ER with a blockage of his main coronary artery. After emergency intervention, he recovered from heart disease using the same course of treatment he recommends to his thousands of patients, making him living proof of his program s success.
In his new book, The Simple Heart Cure, you'll find this top doctors groundbreaking, three-pronged approach to prevent and reverse heart disease an approach honed by his study of cultures free of heart disease, and his decades of experience helping thousands of patients achieve a healthier heart at any age.
So if you recovering from a heart attack or concerned with preventive maintenance, you ll find the help you need in The Simple Heart Cure, including great, heart-healthy menus, and a 90-day, week-by-week plan to help you start taking action immediately.
Here are just a few of the potentially life-saving gems you'll discover in The Simple Heart Cure: The 90-Day Program to Stop and Reverse Heart Disease:
How to slash your risk of a deadly heart attack by 61%…
Proven ways to banish your bad cholesterol…
8 easy steps to head off high blood pressure…
How you can safeguard against lethal stroke…
Simple strategies to unclog your arteries without surgery…
What your belly says about your heart health…
Must-have heart tests for every person over 50…
Easy solutions to steer clear of statin drugs…
Special advice for women, diabetics, and the very stressed, and much more…
When it comes to your heart health, The Simple Heart Curecould be the most important book you ll ever read!